Aqours – Koi ni Naritai AQUARIUM
Written by Nessie Cross on 28 Marzo 2020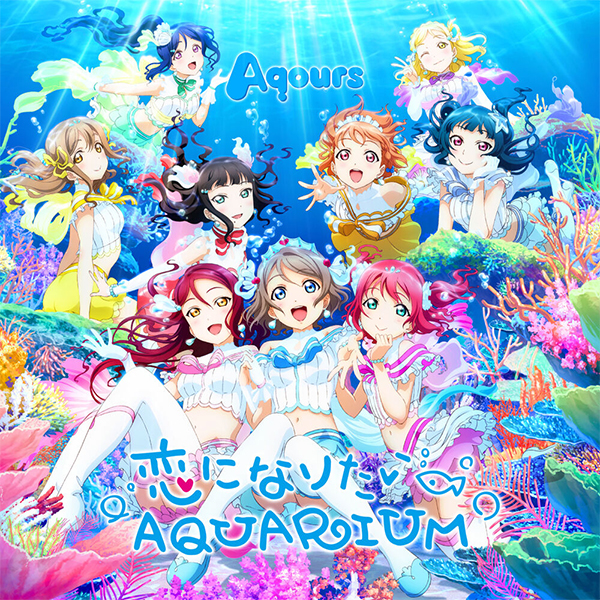 Sorairo kaaten Open! Umiiro geeto Welcome!
Asobimashou!
Yura yura yure nagara shinju no tokei
Kimi to watashi o yume ni sasoikomu no
Suisou de sawagu sawaide haneru
Sakanatachi no paatii yobarechatta
Nande mizu no naka demo iki ga dekiru no?
Tabun sakki nonda atsui ocha no sei kana
Maa sonna koto wa ki ni shinai shinaide
Sakanatachi no paatii tanoshimou ka
Tottemo tottemo tanoshisou (puka puka)
Dattara issho ni puka puka shichaeba?
Itsumo to chigau watashi ni nare
Toiki ga kikoeru kyori made chikadzukitaina I miss you!
Akuariumu de (Yeah!) futari ga deau fantajii
Fui ni tokimeku no sore wa koi no mahou (Fantastic love)
Akuariumu de (Yeah!) kidzuite mune no oku ni himeteta
Hontou no kimochi kore kara sunao ni natte miyou
Daisuki wa mou kakusanai! (nai!)
Datte mizu no naka dashi migi mo hidari mo
Shita kara ue made jouzu ni oyogeru ne Wao!
Suishin wa asai no? Seishun wa fukai no?
Sakanatachi wa nandemo shitteru yo
Shikkari shikkari tanoshinde (awa awa)
Saigo wa issho ni awa awa ni notte
Mata aeru ne watashi ni kisu
Shichaeba? Shichaitai? Shichaina yo!
Ima dakette kimi dakette I love you! (I love you!)
Marin buruu nara (Yeah!) futari wa yume no shinfonii
Kitto kanaderu no amai koi no kiseki (Fantastic eyes)
Marin buruu nara (Yeah!) hajimete nano ni kowakunainda mon
Hontou ni watashi tsugi kara daitan ni natte miyou
Daisuki yo mou kakusanai! (nai!)
Sasocchaunda Wow wo! Akuariumu de
Sasocchaunda Wow wo! Koi ni naritai
(Fantastic!) asobimashou!
Puka puka de awa awa de mitsumeatte iitai na
Daisuki Wow wo!
Akuariumu de futari ga deau fantajii
Fui ni tokimeku no sore wa koi no mahou
Akuariumu de (Yeah!) kidzuite mune no oku ni himeteta
Hontou no kimochi kore kara sunao ni natte tsugi kara daitan ni natte miyou
Daisuki yo mou kakusanai (nai!)
(Fantastic love Yeah! Yeah! Yeah! Yeah!)
---