Golden Bomber – Boku kuesuto
Written by Nessie Cross on 5 Giugno 2020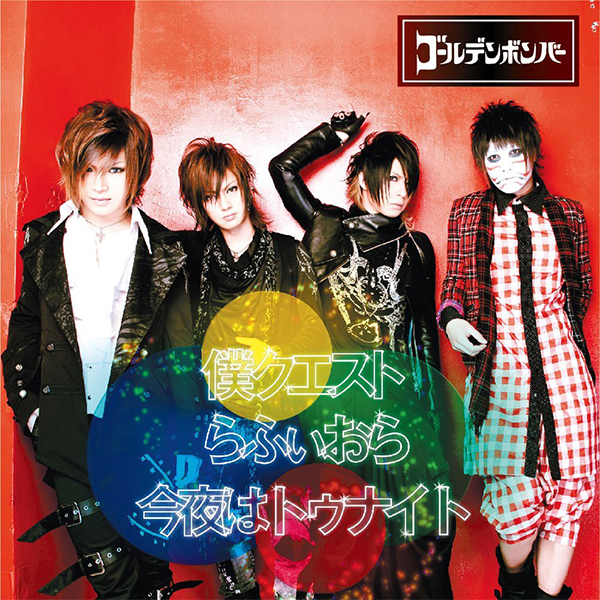 Kyou mo tesuto ga muzukashii
Goraku yuuwaku tachi kirenai
Kaette terebi wo miteitai
Saikin anime ga omoshiroi
Tonikaku tesuto ga muzukashii
Koku suu ei ga toku ni muzui
Rika to shakai mo heikinten
Tokui na no wa taiiku kurai
(Machi na yo Baby!) Nozomareta
(Sorette Baby!) Kaitou wo
(Chotto matta Baby!) Oboeru no wa
(Oretacha nanda!? Baby!) Dare no tame ni
Tatoeba sono kami ni seikai wo kaketa to shite
Ichi-nen saki, juu-nen saki kawaru?
Yume no katasumi de egaita sekai de
Itsuka boku wa oozora wo kakeru
Dare mo kono kokoro wo togamenai yo
Nani ga tadashii nante nai!
Yaritai koto ga boku ni wa atte
Kibishii mirai kakugo shiteru
Keredo otona wa atamagonashi
Ichido shippai sasete hoshii
(Machi na yo Baby!) Jiyuu da to
(Sorette Baby!) sakebu nara
(Chotto Matta Baby!) michinori wa
(Oretacha nanda!? Baby!) araku kewashii
Daishou no ooki-sa ni hara o kukureta nara
Juu-byou saki ichi-byou saki kawaru
Yume yo kanae nani ka wo ushinaou tomo
Nito wo ou mono wa itto wo moezu
Tada hitotsu dake no gyokuza o mezasou
Saishougen no nimotsu de
Boku no kuesuto wa ima wa mada
Hajime no machi sura dete inai
Deyou deyou iza soto e
Tatoeba kono machi de buki-ya o itonanda to shite
Juu-nen saki gojuu-nen saki owareru?
Ima wa zaregoto darou shikata ga nai yo
Itsu no ma ni ka mikaesu hi ga kuru
Hontou no teki wa koko ni wa inai yo haruka
Yume no katasumi de egaita sekai e
Itsuka boku wa kono ashi de kakeru
Yume janai michi wa tsudzuite iru
Iza zetsubou no kanata e
Iza zetsubou no kanata e
---