JAM Project – Genkai batoru
Written by Nessie Cross on 31 Maggio 2020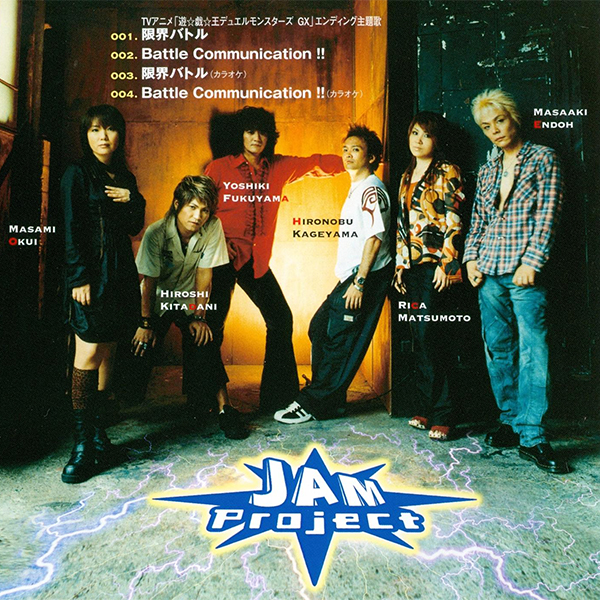 Genkai Battle tatakitsukete kizutsuitatte iin jyanai
Toki wa michita atsui Duel no gongu ga hibiku
Unmai no ka-do ga hikaru
Maku wa ochita mune no kodou ga hageshiku takaburu
Erabareji mono yo saa tachiagare
New days bokura no mirai e
Find our way yume o tokihanate
Ichikabachika no Counter
Dakara genkai Battle tatakitsukete kizutsuitatte iin jyanai
Time Limit made akiramenai zesousa kowasashirazusa
Genkai Battle kattobashite moetsukirya saikoujyanai
Sekaijyuu ga konojidai ga saa omaeto Ride on!
Akiramenai Trap no kabe tachihadakatte
Unmei ga yusaburaretemo
Makehashinai kono Field ni subete wo kakeyou
Erabareshi mono no hokori ga sakebu
Nwe force atarashii chikara wo
Find oneself mi ni tsukeru tabi ni
(Tsukinukeru kono kaikan)
Motto genkai Battle butsukeatte kizutsuitatte iinjanai
Zero ga chikakutemo zenryoku de ii sousa honne de iku sa
Genkai Battle kisoiatte moetsukirya honmou janai
Imada shiranai tsugi no teki ha mou omae to Ride out!
New life subete no inochi he
Find our way yume wo tokihanate
(Ato ni hikenai tomaru koto nai ikippanashi no Count out)
Dakara genkai Battle tatakitsukete kizutsuitatte iinjanai
Time limit made akiramenai ze sousa kowasa shirazusa
Genkai Battle kattobashite moetsukirya saikou janai
Sekaijuu ga kono jidai ga saa omae to Ride on!
---